Enter details
Payment
Complete!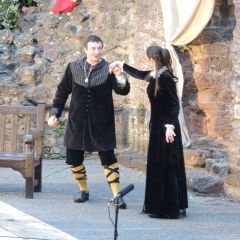 Outdoor Theatre: The Tempest
The Tempest on the Cloister
Torre Abbey, Devon on Sunday 28 May 2017
Admission from at 6:30PM
From 7:30PM to 10:00PM
Theatre Hub are delighted to be presenting once again, an Inn Theatre Company production of The Tempest, one of Shakespeare's most popular plays.
Bring a picnic, some wine (or a flask of something hot!), a blanket or deck-chair, sit back, relax and enjoy a fabulous production in equally fabulous surroundings.
*There are no reserved seats (a small number of seats will be available, on a first come first served basis, so please feel free to bring your own blanket or seating.
The Inn Company were first formed in 2002 by a group of friends having a drink in the Cherub Inn in Dartmouth (hence the name) and their first open-air Shakespearean production was 'Twelfth Night' at Dartmouth Castle in 2003. The woman whose idea it was originally, Jane Windsor-Smith, is the company's present Artistic Director. Every year since the formation, the company have striven to improve and take bold steps in their presentation of Shakespeare, always seeking to make it more accessible and to give lie to the oft-voiced opinion that 'Shakespeare is too difficult to understand for a modern audience'. That they have succeeded is beyond question. Their patron, Michael Corbidge, senior voice and text coach for the Royal Shakespeare Company says this of them:
"(They have a) truly adept skill and mastery of delivering high quality, hugely entertaining and popular work. They were born to speak the Bard and you were born to listen. I urge you to go and share in their joy…"
The Inn Theatre Company have been affiliated to the Royal Shakespeare Company since 2011.
Theatre Hub, in their relatively short existence, have achieved a huge amount, not least having their production of Max Brandt's play 'Dominion' voted People's Choice at the 2016 Swindon Fringe Festival.
They have toured a summer Shakespearean production with The Inn Theatre Company for the last three year's, always receiving rapturous reviews and invitations to return the following year; hence our second visit to Torre Abbey.
Theatre Hub's Artistic Directors are Jane Windsor-Smith and Max Brandt (also the Artistic Director and Company Manager, respectively, of The Inn Theatre Company) who, after a break away from it all in Australia, decided to fulfill a life-long dream. They took the plunge and formed their own, professional, theatre company and are still trying to get 'traditional' theatres to answer their emails and realise that Shakespeare is for everybody!
They are currently working with United Response (ROC Creative as was), with a group of learning-disabled actors, on a play-back production of 'Macbeth' and have several workshops and a summer production workshop forthcoming with the Totnes Progressive School.
And Max is also in the throes of directing this year's Dartmouth Shakespeare Week production of 'Othello'.
Sorry, no tickets are currently on sale.
Your Basket
Item
Price
Qty
Subtotal
There are no items currently in your basket

Total

£0.00