Enter details
Payment
Complete!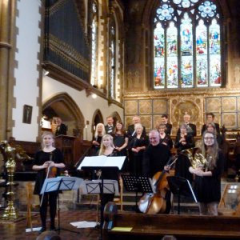 Exeter Chorale
Exeter Chorale & Players present a thrilling concert of seasonal Renaissance music in the beautiful setting of the Cary Chapel. Music is featured from Spain, Italy and Germany by composers such as Guerrero, Victoria, Palestrina and Lassus, as well as Gregorian chant and instrumental interludes. Pre concert and interval drinks will help to create a serene start to Advent!
Doors open at 7pm , show begins at 7.30pm. Tickets £10
6th December 2017
Sorry, no tickets are currently on sale.
Your Basket
Item
Price
Qty
Subtotal
There are no items currently in your basket

Total

£0.00