Enter details
Payment
Complete!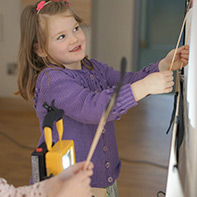 Doorstep @ Torre Abbey
Get ready to join us on an adventure! Each week Doorstep Arts lead an energetic workshop that gives preschool age children a chance to explore drama. Every week is a different theme stimulated by each child. Doorstep Arts encourage your children to play, be silly and enjoy bringing their imaginary worlds to life. Using dance, song, crafts, instruments, outdoors, games in Torre Abbey, books, toys, we spend 30 minutes minimum using lead play by a professional practitioner, and then the rest of the time your child can enjoy free play with parents and interacting with other children.
Sorry, no tickets are currently on sale.
Your Basket
Item
Price
Qty
Subtotal
There are no items currently in your basket

Total

£0.00